Charity Makeover #7: Bali edition was a fantastic success.
This was our largest event yet with over 30 participants supporting 6 charities, and the last in-person event for awhile as the COVID-19 fears escalate across the globe.
Again, we are so grateful for all the Volunteers, Sponsors, Charity Representatives and Support who spent countless hours preparing and executing this event.
Here's a recap of what went down with this event:
Monday, 9-March-2020
For the Bali event we had some amazing team leaders that were well-organized prior to Monday's "Virtual Meet & Greet."
On this call, we presented a bit more about the structure of the event, the charities we'd be supporting, and the team leaders for those charities.
The call was recorded for those that could not attend:
The purpose of these initial calls is to front-load the strategy setting, introduce the team leaders so we can begin to form teams, interface with the charities via slack, extract requirements and formulate strategies for each team in advance of the weekend.
It's always a delicate art of matching the charities' needs and our volunteers' skillsets – while keeping in mind that all of this has to come together and be executed in a single day.
These calls help as we try to tee everything up as much as possible so that Saturday is 100% dedicated to execution rather than waiting until then to determine what we're building.
Despite all the planning, there are always the unknowns. The event still went very smoothly despite some last minute change ups – including a change of venues for the Saturday event, a new local charity added the night before, and a number of key volunteers dropping out due to COVID-19-related travel issues.
Life happens and unexpected events come up, it's part of it. Having well-organized teams and plans for the majority of the event let these bumps go without detrimental impact to the event itself.
Friday, 13-March-2020
Friday the 13th – No bad luck here though.
Friday night we had our kickoff event at Camp 308 in Perenenan.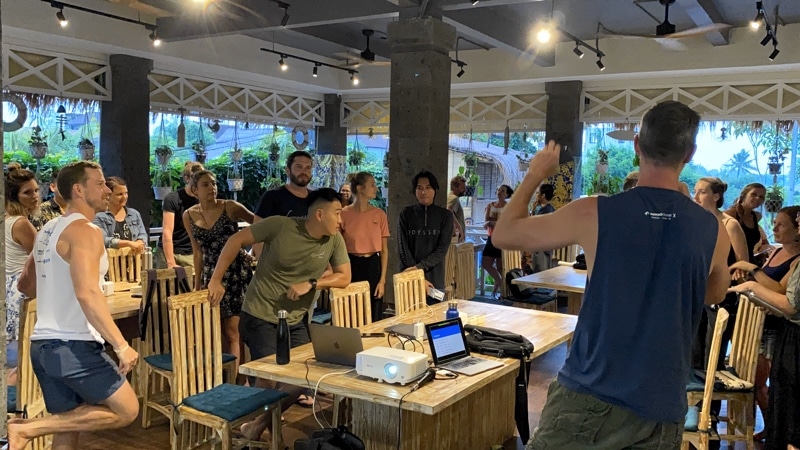 The goal with this "Strategy Session" kickoff event is to officially form teams and finalize the game plan for the next morning.
Part of what made helped this event run so smoothly was the newly developed Charity Makeover App. Sean has absolutely crushed it in building in all the functionality to allow volunteers to:
Sign up for an event they'd like to participate in (e.g. Charity Makeover Bali Event)
Select their unique skills that they'd like to contribute (e.g. Copywriting, Digital Marketing, etc.)
Elect if they're interested in applying to be a team leader
Select the charity that they're interested in helping (e.g. Bali Street Mums, Caraya)
See what charity needs your skills (e.g. Caraya needs a web developer and that's one of your skills)
Nominate a charity to be included in a Charity Makeover Event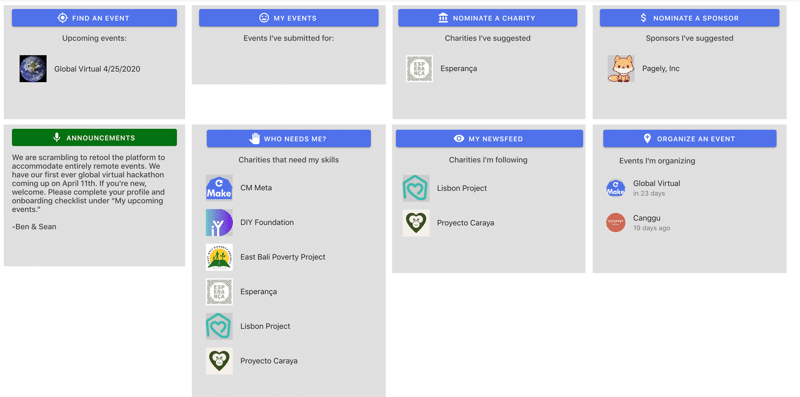 There are so many features being added here. Eventually the goal is that this app will control the entire event from Idea => Execution. Watch this space. Every new event will continue to refine this process and make it more user-friendly and efficient.
We use Slack, Trello and Google Drive as the connective tissue for collaboration before, during and after the event. A new tool added to the toolbox is Passbolt as we needed a Password solution to scale up and this seems to fill the void. Combined with the App, these tools seem to provide all the support we need to make these events a success.
Saturday, 14-March-2020
Saturday's even was held at Camp 308 in Perenenan (amazing co-living / co-working space in Bali), and we were incredibly lucky to have them provide THE ENTIRE SPACE and cater the event. We made good use of the private meeting rooms & whiteboards, the coworking area and even the sundeck area for the evening presentations.
Special thanks to Hella and the Camp 308 staff for making the event run so smoothly and helping out in so many ways. We couldn't have done it without you.
Breakfast, Lunch and Dinner were catered by the Team at Camp 308 and the food was absolutely amazing.
It was a full day of execution and building for the 5 charities, and the day absolutely flew by. 7pm presentations were ready to go, and the with demo time approaching we flipped into pitch preparation mode and readied our respective deliverables to show the group.
Here are some clips from the day:
Demo time
Demo time started at 7pm on the sundeck (with some great food and drinks), and is an opportunity for the teams to showcase what they've been working on all day.
We kicked off the presentations with Esperanca and then moved through the other charities. Note that Lisbon Projecto and Caraya were not presented as the work done for those charities was smaller in scope.
Esperanca was led by Kat (remotely, in Barcelona) and Nicole (Locally, in Bali) and had a highly technical team working on a number of objectives.
In our Barcelona Charity Makeover event, Kat also led the team, and they made an impressive responsive mobile-friendly app for them and created a new visual identity for the charity. The app was built as a potential replacement to the Google Sheet system used for coordinating weekly runs. While this process works, it's cumbersome, requires inordinate time on the part of organizers and results in chasing down volunteers with a top-down approach. We saw opportunity to both streamline things and invert the control structure pushing the weekly run coordination organization efforts into the hands of the volunteers themselves.
The app created in the Barcelona event was a step forward but given the technical nature of what was built we were a bit straightjacketed by needing a react.js developer to maintain and extend the functionality of it. At the Bali CM event part of the Esperanca team began the process of porting the app to a nocode tool called Adalo. We hit some technical challenges mid-stream and ended up moving part of the database to AirTable in order to accommodate the external logic that needed to be built for managing the automated volunteer recruitment process we're building. Long story short this app is in progress and is in a state where a future group should be able to get it across the finish line for them.
Special thanks to Kat for helping lead remotely and waking up at a terrible time in the morning to support!
The Bali Street Mum Project was a last minute addition to the Bali Charity Makeover event.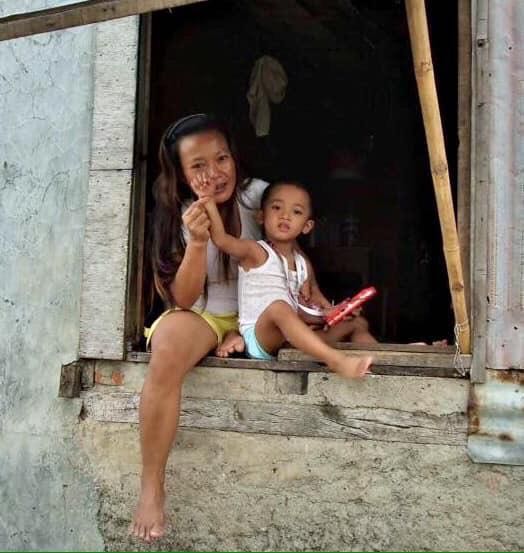 Here's a little intro into what they do: "The Bali Street Mum Project works with impoverished mothers and children who are begging on the streets of Kuta​. The children are in danger on the streets, often they will die young. Or be abducted and attacked by a rising number of international paedophiles entering Bali. We also work with mothers and children who are trash picking at the Denpasar Rubbish Dump."
Joe lead the team and despite not have the benefit of all the pre-planning, the team did not disappoint during the day. Key highlights include the newly designed and launched brand new website:
As sustained funding is a key issue for Bali Street Mums (and most charities) the website includes the ability to purchase T-Shirts. These shirts are Print on Demand Shirts for sale with 4 different designs and initiatives for these shirts. We had some fantastic (quick!) graphic design work to get all these designs made and shipped! For every Be Kind T-shirt purchased, 100% of the proceeds will help us provide a breakfast full of protein plus fruit, milk, clean water and even vitamin C supplements for 20 kids in the slums of Bali, Indonesia. You read that right, 1 shirt = breakfast for 20 kids. As this is set up as "Print on Demand" there isn't any inventory or fulfillment costs necessary with this model.
Landing pages were also made for B2B and Donation initiatives. The B2B initiative is targeting cafes, gyms, local businesses in Bali with lots of traffic/attention to help spread the word about this initiative and grow their exposure.The donations page will be for collecting donations and sponsorship.
Fantastic job by the team for really coming together on this one!!
Angie led the team for EBPP and ended up with a rather large team (15 volunteers + EBPP Staff).
Ultimately the goal was to help raise $30K with 2 main initiatives being a Social Media Outreach Strategy & CSR Campaign. We created a short promotional video that explains the mission and launched this landing page.
The Social Media Outreach Strategy was focused on Awareness and Fundraising. Thinking outside the box, the team came up with a Viral Contest that will be distributed to influencers. The entire strategy was put together including influencer lists, media kits and templates so it's essentially a plug and play move to get this thing moving. The contest is a Sambal Eating Contest… Which is a VERY hot local Indonesian chili sauce or paste typically made from a mixture of a variety of chili peppers.
The CSR Campaign ended up with a plan to approach large multi-nationals to push bike usage and ultimately to sell Bamboo Bikes that are built at EBPP. The team created an outreach campaign to gauge interest and demand prior to launching tool kit and rolling this out. A lean campaign with a series of emails and a new landing page.
Pam led the DIY Foundation group and had two main objectives for the day: 1) find out more about their target group and 2) help with the operational day-to-day operations of the Bali Location.
DIY is offering free digital skills (web development, front/back end development, marketing, etc) training for Indonesian Youth. A large part of the team split up and went out to spend a large part of the day doing user research – targeting high school students and finding out a bit more about what these youth are looking for in regards to new skill development. A (surprising) major finding is that people are very time constrained working long hours, which is leaving them with little free time to explore new opportunities.After distilling what they've found in the user research, the team was able to implement some quick UI/UX Changes for the website and Social Media Strategy to reflect these findings.
DIY's Operational team is very constrained for their Bali Operations. Although the model is working in Java, the team is missing key positions to get traction for DIY in Bali. So part of the Charity Makeover DIY team spent time building the job descriptions needed for key positions (e.g. Teachers, Manager / Operational Lead) and putting together job interview questions for these positions. There was also a lot of brainstorming on how to attract or promote others with guidelines & scripts for facebook posts to help recruit help for these key volunteer positions.
The Lisbon Project and Caraya
Charity Makeover Bali also supported 2 previous charities remotely in the event. Caraya, in Argentina, and The Lisbon Project, in Portugal. A big thanks to the volunteers that helped and the respective teams working with us!
Next steps
Our Bali Event was our largest Charity Makeover Event Ever. More volunteers, more charities, more sponsors than ever before. Within each charity there were multiple objectives and essentially sub-teams within each charity work group. With this event, we had enormous buy-in from the community and we are so grateful – A HUGE THANKS to everyone involved.
In the last two weeks following the event, COVID-19 fears have been ramping up quickly, and the tone has changed.
"Unless government, funders and nonprofit leaders take immediate and decisive action to help nonprofits during the coronavirus outbreak, many nonprofits around the nation may just disappear over the next few months leaving those they serve and employ in disastrous circumstances," – John MacIntosh, SeaChange Capital Partners
The plan was to wait a bit before our next event, however, There are TONS of non-profits that desperately need our help right now.
To help, in the coming weeks, we are planning a massive global virtual Charity Makeover Event.
Although we were already planning to go the route of introducing virtual continuity teams, with the way things are now we've moved this forward on the priority list. Right now, our platform needs to be re-tooled slightly to adapt to a virtual event, but we'll be ready to go and make as big of an impact as we can.
People have free cycles now and are driving themselves crazy with reading about COVID (myself included). There are lots of in isolation, and facing very challenging times.
We want to channel this energy to help out those that really can make a difference. Gratitude has actually been proven to stimulate the immune system. We could literally be the cure.
You can sign up on the homepage or please share it with someone you think might be interested.
A final big thanks to everyone that was involved with the Bali event and we look forward to serving more charities with these next online events.
-Ben